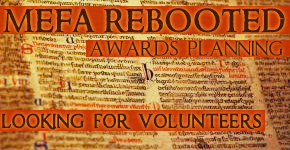 As many of you have heard, the Middle-earth Fanfiction Awards, fondly known as the MEFAs, will not be continuing. Many of us have fond memories of experiences, stories discovered, and friends met there, and it's understandable to be sad about their ending. However, the ending of the MEFAs has left a big gap in that there is no longer a fandom-wide award for the Tolkien writing community. To that end, a group of fandom members have stepped in to start a new fandom-wide award.

MEFA Rebooted (because we haven't even gotten so far as deciding what name we want the new award to have!) is looking for volunteers and input from all corners of the Tolkien writing fandom. The image above will take you to the post where you can sign up as a volunteer. A lot of discussion is underway on the community about the future of the awards, and whether you volunteer or not, your input is certainly valued. We're talking about everything from site software to ratings policy to categorization, so feel free to jump in. I cannot emphasize enough that we hope to be both diverse and inclusive and welcome perspectives from all corners of the Tolkien community.

This is a rare opportunity to build from the ground up something that will be used by the entire Tolkien fandom and has the potential to bring much fun and joy into our community, as the MEFAs did for eight years. I do hope many of you stop by to share your ideas or sign up to volunteer.