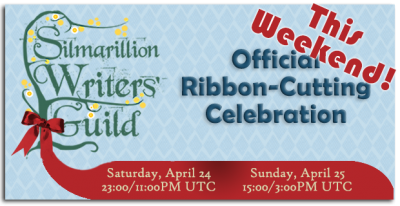 After eight months of work, we are thrilled to officially welcome the SWG site back to the Internet with a ribbon-cutting party. In an effort to welcome our international member base, we will be holding two events on our Discord server. All are welcome, and you can join our Discord here.

Our first event will be held today, at 23:00/11PM UTC. (Find this in your timezone.) We'll start with a dedication and a whole heap of acknowledgements to the many hands and minds that have made this endeavor possible. Then raise a glass of your beverage of choice as we toast another 15 years (and beyond!) of the SWG!

Next, we'll read our fanworks and excerpts from Tolkien around the themes of renewal and moving toward the future. You can sign up here to read, jump in during the open mic time, or simply listen along.

We'll wrap up the event with an instadrabbling session: gathering to create fanworks based on prompts related to our theme and sharing (and squeeing over them) in real time.

Sunday, we'll do it again at 15:00/3PM UTC. (Find this in your timezone.)

Full information and the programs for both events can be found on the website here.